Tag Results: The 405
The 405: Track Debut 'Cat Fantastic' from This Town Needs Guns' new album

Today we have a special treat for you as we have the premiere of 'Cat Fantastic', the first track from This Town Needs Guns' new album, which will be released in 2013.
Firstly, the title is great. How can you wrong with 'Cat Fantastic'? Secondly, man is it good to have you guys back. Seriously.
Check out the track below, as well as their forthcoming tour dates (more to be announced soon). Tickets are on sale today from thistownneedsguns.com.

THIS TOWN NEEDS GUNS UK TOUR
18/10/12 Falmouth Black Dog
20/10/12 Cheltenham The Frog & Fiddle
21/10/12 Worcester The Marrs Bar
22/10/12 Bristol The Croft
23/10/12 Birmingham Hare & Hounds
24/10/12 Leeds The Well
25/10/12 Preston The Mad Ferret
26/10/12 Liverpool The Shipping Forecast
28/10/12 Hartlepool The Studio
29/10/12 York The Basement
30/10/12 Leicester The Firebug
31/10/12 Norwich The Keir Hardie Hall
01/11/12 Kingston New Slang at McClusky's
02/11/12 London The Borderline
04/11/12 Canterbury The Beercart Arms
05/11/12 Cambridge The Portland Arms
06/11/12 Milton Keynes The Craufurd Arms
07/11/12 Brighton Sticky Mike's Frog Bar
09/11/12 Cardiff Buffalo
10/11/12 Oxford The Cellar
---
REVIEWS: Truck Festival - UK

"…Essentially, though, we were just killing time until the two best acoustic performances of the weekend. The first, perhaps unexpectedly, was This Town Needs Guns, a band not easy to imagine in a stripped-down fashion. Playing in the festival merch tent/record store with just an acoustic guitar, bass, vocals and very occasional glockenspiel, we were treated to different interpretations of "Crocodile" and "Badger" (I think) from Animals and their older live staple "Want to Come Back to My Room and Listen to Some Belle and Sebastian?". It was '"Zebra," however, the rarely-played, eerily gorgeous glock-led closer to Animals that made the short set worth sitting bunched up on the floor of a sweaty tent for, along with tour stories about Native and, as always, Tim Collis' almost inhuman talents. "

"… there seemed to be a real air of excitement from everyone in the audience about seeing - This Town Needs Guns. Truck regulars who keep getting better, they write intelligent and challenging music for the masses. Although seeing a ridiculous number of crowd surfers and a real good-natured moshpit break out to them was the last thing to be expected. But it was a sight, and indeed a band, to
behold.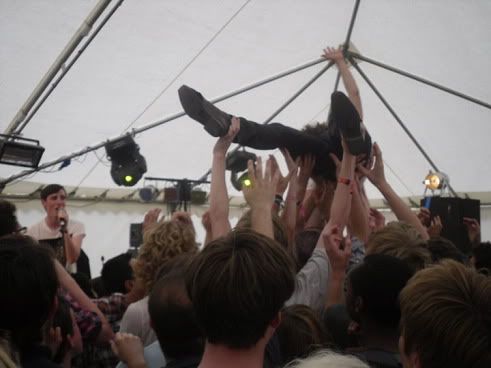 ---